Applied Kinesiology (AK)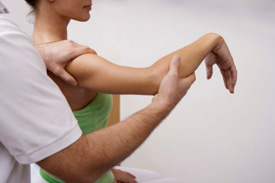 Applied Kinesiology (AK) is the original manual muscle testing technique. The Neuro Emotional Technique (NET) and Quantum Neurology techniques both stem from its diagnostic proficiency. Because of AK, Baku Chiropractic & Functional Medicine is able to easily and precisely locate problem areas.
Learn more about the difference Applied Kinesiology can make in your healing process.
Made in Detroit
George Goodheart pioneered AK in 1964 in the city of Detroit, Michigan. He was the first to realize the benefits of using manual muscle testing to identify weak muscles followed by chiropractic care to make them stronger. This system of unified diagnosis and care was given the name "Applied Kinesiology" and continues to positively impact health care today.
The AK Basics
Applied Kinesiology is, in short, a way to talk to the nervous system through muscle testing. Our practice uses it to find misalignments in the spine, muscle weakness, issues with the organs, and nutritional deficiencies. We also use AK to help us get to the bottom of underlying emotional stressors.
With AK, we determine what your body really needs. Baku Chiropractic & Functional Medicine commonly relies on AK to confirm bloodwork as well as other diagnostic testing. From supplementation to helping you fight an infection – AK tells us where the problem lies and gives us an idea of how to move forward to achieve best results.
Getting You Better
Dr. Baku and his team are committed to getting you better without traditional invasive practices. AK is a proven alternative health care technique. It has been shown to successfully diagnose illness and help care professionals recommend appropriate plans of care. Our knowledge and expertise of AK allows us to get straight to the point, helping our patients achieve lasting wellness as quickly as possible.
Today is the day to take the first step toward lifelong comfort, and more importantly – lifelong wellness. Contact us to schedule your appointment!

Applied Kinesiology (AK) | (720) 998-7956