Quantum Neurology®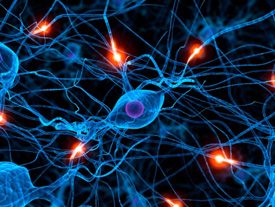 Baku Chiropractic & Functional Medicine is all about rehabilitating the nerves to help the body heal itself. We use Quantum Neurology®, an advanced system of nerve rehabilitation, to find and address weak nerves and encourage complete healing. It uses a combination of traditional neurological muscle tests, functional neurological muscle tests, and specific stimulation, such as infrared therapy, to bring nerves back to life.
Many people are unaware that healthy nerves lead to increased communication between the brain and the body. Simply put – the healthier your nerves, the better your overall function. Our practice is proud to offer Quantum Neurology® to give you the best chance at optimum healing.
How Does It Reduce Pain?
The goal of Quantum Neurology® is to stabilize nerves that are associated with painful, and even debilitating, injuries, illnesses, and conditions. Dr. Baku uses this safe, non-invasive technique to evaluate, strengthen, and rehabilitate every major nerve in the body.
Dr. Baku relies on a series of upper and lower body muscle strength tests, light therapy, and joint mobilization exercise to carefully examine the entire spinal cord and strengthen weak nerves. Muscle strength tests help him locate the impaired nerves, and light therapy and joint mobilization work to restore them. Together, these methods of care relieve nerve pressure on the muscles – ultimately, reducing pain and discomfort.
There Is a Chance
Simply put – nerves control every function of the body. To walk, breathe, and wiggle your toes, they have to send messages. When nerves become dysfunctional, outward symptoms develop. Baku Chiropractic & Functional Medicine is here to reassure you that as long as a damaged nerve is intact, there is a good chance that it can be rehabilitated!
More than likely, your pain and discomfort can be resolved. We have seen Quantum Neurology® help paraplegics that have not walked in 10 to 12 years regain movement in their legs. We have also seen it restore sense of smell, ringing in the ears, and poor vision.
Contact us to learn more and find out if Quantum Neurology® is right for you.

Quantum Neurology® | (720) 998-7956