Meet Dr. Skylar Baku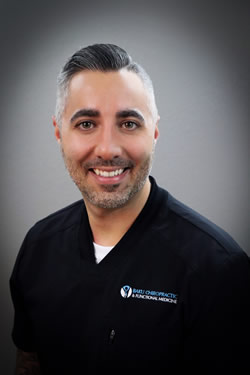 I've chosen to devote my life to the healing arts because I want to change the world, one person at a time, by optimizing their health.
Born and raised in Marysville, Michigan, Dr. Baku was originally inspired to be a healing practitioner by his childhood applied kinesiologist/chiropractor. "I always felt blessed to receive regular holistic care starting from a young age."
As he grew older, so did Dr. Baku's passion for natural health. He often experienced the powerful effects of chiropractic and appreciated that it could fix more than just back and neck pain and without medication.
Witnessing the Effects of Chiropractic on His Mother
"The ultimate turning point for me was when our family chiropractor saved my mom's life. She had been experiencing fatigue, weight gain, poor sleep, digestive problems, muscle pains, hair loss and many others." His mother was first misdiagnosed with having an infection. "Our chiropractor detected a potential problem with her thyroid and recommended she get it checked by her doctor."
It was discovered that his mom had thyroid cancer. "Thankfully, it was found early enough, and after a few medical procedures, she was cancer-free. It was at that moment in my life I chose to become a natural healer."
Chiropractic Education and Extra Training
Dr. Baku went to chiropractic school at Palmer College of Chiropractic in Davenport, Iowa and graduated cum laude in February 2012. Since earning his Doctor of Chiropractic, he completed hours of study on Brain-Based Wellness, including Quantum Neurology, Functional Neurology, Brain Development, Neuro Emotional Technique, and Beyond Functional Medicine.
Helping to Optimize Patients' Health
"Chiropractic helped me regain my health and strength time and time again, and I wanted to be the one my community sought for their health and strength. I love the art and technique of chiropractic so much that it is fun for me. The best feeling in the world, to me, is knowing I helped change someone's life by restoring their healing potential."
Dr. Baku is grateful to have been blessed with the knowledge and skill to help people with a combination of his heart and two hands. "I am also grateful I chose this path because I truly feel I have found my calling."
??Listening to and Serving Others
Dr. Baku genuinely listens to and loves every one of our patients. "My promise to you is always to love you, to serve you, to help you and always provide you with kindness and inner healing. If you have friends and family who either need help, are seeking to maintain their health or even looking to excel in their performance, I am here to help."
Enjoying Life Outside the Office
The most important things in the world to Dr. Baku are his wife Susana and the rest of his family. He is extremely close to them. Dr. Baku also is passionate about his health and enjoys playing sports. Playing music and enjoying all types of cuisine are his other interests.
Book an Appointment
If you are looking for a chiropractor who understands what it takes to live well-you have come to the right place! Dr. Baku has the knowledge and expertise to help you live a happier, healthier life. Contact us today to schedule a same-day appointment.

Dr Skylar Baku | (720) 998-7956